Robins Easy Crock Pot Meatballs
lets.eat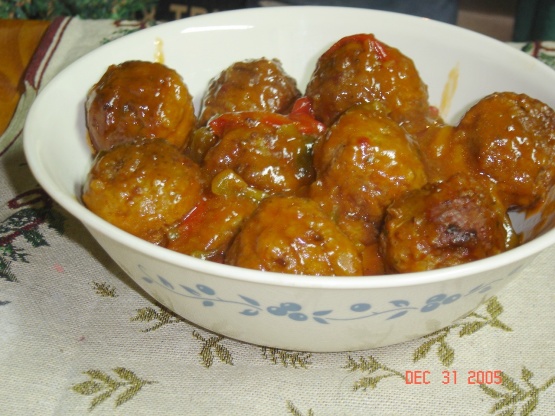 WARNING: this recipe DOES NOT USE chili sauce or grape jelly!! This is best used with frozen meatballs and you could use "store brand" tomato soup to help cut cost. Ingredients are for each pound of meatballs used.

I needed to make an appetizer for a small Thanksgiving dinner with friends this year and everyone else chose the easy stuff like chips, cheese etc. I wanted something hot that would go good with the cheese and found this recipe. It was delicious and easy. I added just a little red pepper flakes for a bit of spice and they were a hit. I had a few left the next day and put them in a hot dog bun with some shredded mozzarella and baked in the oven for a few minutes..Outstanding! I'm making another big batch for Christmas Eve for the whole family.
per pound of meatballs add each item soup, brown sugar, vinegar, Worcestershire sauce & mustard.
saute onions and green peppers in butter till limp and add to sauce.
heat in crock pot over low for 4 to 6 hours stirring every hour or so till meatballs are heated through.