ImPat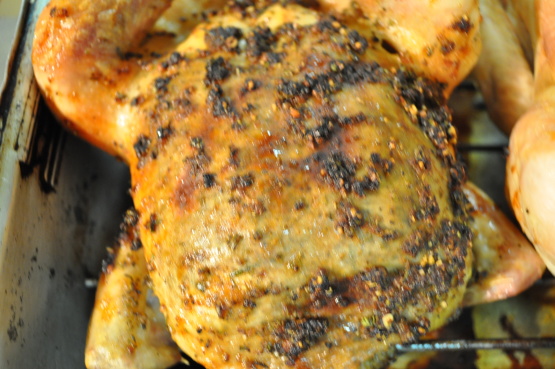 From Cuisine Magazine, I forgot which issue but I memorized this recipe. I always make enough marinade for two, and then throw an extra one on the grill or in the oven if more people show up.

Top Review by ImPat
WOW this packs a punch and the gravy that you can make from the pan juices is to die for (the DH has stated he will have the chicken which he thought was o'kay to have the gravy - can't have one with the other :lol:). I did cut back on the salt though (only 1 tablespoon) but otherwise as per recipe and ended up only doing one chicken (will freeze the rest of marinade to see how it goes at a later date). Would also like to quarter a chicken so as to get the marinade under the skin of drumstick/thigh portions and this of course would be quicker to roast in the oven. Thank you Jubal Harshaw, made for Pick A Chef.
preheat oven to 425 degrees.
wash and pat dry chickens
run your hands under the skin to separate from the meat
Mix together the rest of the ingredients in a large bowl.
Rub the marinade underneath the skin of the chicken taking care not to tear the skin.
use most of the marinade like this, and then rub the remainder on the outside.
cut a slit on either side of the vent and cross the chicken legs into the slits.
put the chicken in the oven feet first.
cook for 60 minutes.
take chicken out o the oven and let rest for 10 minutes.