Robert's Famous Baked Beans
teresas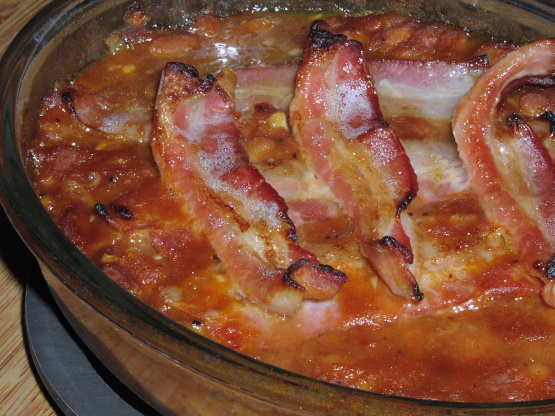 I've always been a fan of any kind of beans, especially baked beans, so I decided to come up with my own version.

We really enjoyed this...I cut the recipe in half and it worked great...loved all the flavors although it was a bit overly sweet for us so next time I will cut down on the sugar...and the bottom parts of the bacon didn't crisp at all...I guess I like cooking my bacon up before adding to the bean dish...thanks for posting it...=)
Preheat oven to 350°F.
Combine all ingredients except bacon and pour Into a 9x13 inch casserole dish, Lay bacon on top of bean mixture in a criss-cross pattern. Bake for 30 minutes or until bacon is done and beans are hot and bubbly. A great side dish for barbequed ribs or brisket.