Robb Walsh's Barbecued Cowboy Steaks
diner524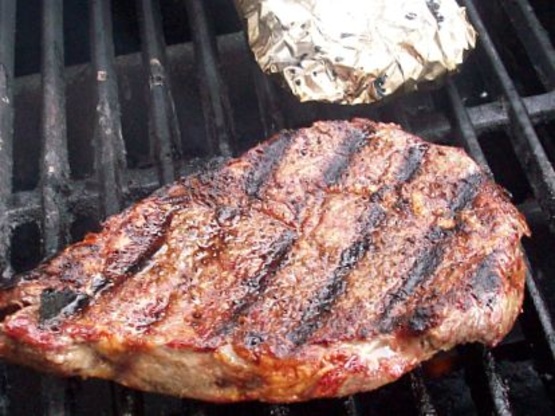 Based on a recipe from the July 2003 issue of Bon Appetit, and is its cover photo. Robb Walsh is the author of Legends of Texas Barbecue Cookbook, and is based in Houston, Texas. The intro says, "Want to cook like a real Texas cowboy? This is the recipe for you. Adapted from a method found at Cooper's Old Time Pit Bar-B-Que in the Hill Country town of Llano, Walsh's homage to the range involves grilling the meat over mesquite coals and chips. The result is a profound experience in smoky flavor -- and history. 'Mesquite grows as thorny scrub all over Texas....It's basically a nuisance, so cooks are happy to use it for grilling and smoking.'" Further, "Those with Texas-size appetites will require an entire steak; for most others -- even the heartiest of meat lovers -- half of one of these rib steaks is probably plenty." Naturally, my DH loves this recipe! :) Prep time includes the 30 minutes to soak the mesquite or hickory wood smoke chips and the one hour standing time.
Delicious, smokey flavored steak!!! I only made 1/2 of the rub, as I was grilling only one steak and can now save the rest for another steak!! We only have a gas grill, so I had to do things differently, so I soaked my hickory chips and then drained them and then wrapped them in foil. I preheated the grill with the packet of chips on the grill to get them to the smoking point before I added my steak. This worked out perfectly and the steak tasted absolutely wonderful!! We have smoked babyback ribs and chicken before, but this was a first for steak and I loved it!! I also loved the rub, especially the added coffee!! Thanks for sharing your recipe Mersaydees!! Made for Newest Tag!!
In small bowl, make spice rub by combining first 6 ingredients.
Sprinkle spice rub over both sides of steaks, pressing to adhere.
Allow steaks to stand at room temperature 1 hour.
Spread entire contents of mesquite chunks bag over 2/3 of bottom rack and prepare barbecue at medium-high heat.
Grill steaks over mesquite until brown on both sides, about 2 minutes per side.
Remove steaks from grill.
Allow mesquite chunks to burn until only gray ash remains.
Drain wood chips; scatter over mesquite.
Return steaks to cooler part of grill, i.e., not over mesquite.
Cover barbecue with lid; grill steaks to desired doneness, about 10 minutes for medium-rare. Let steaks reast 5 minutes before serving.