Cook4_6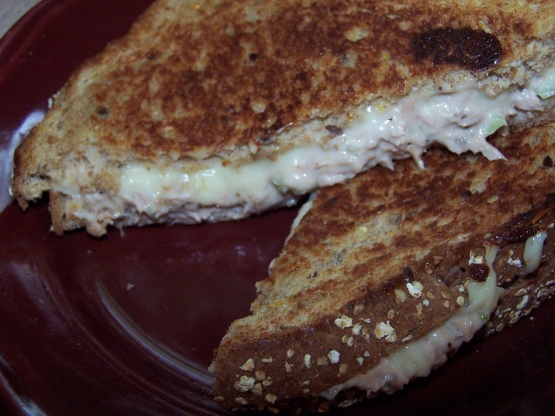 Rob Evans is the chef at Hugo's, located in Portland, Maine. http://www.hugos.net/ This is his version of a not straight-from-the-can tuna sandwich. An Italian tuna, Gruyère cheese, charred-rosemary mayonnaise tuna sandwich. I have also posted the recipe for the charred-rosemary mayonnaise which makes this sandwich out of this world. Tuna Melts are my favorite sandwich. I made this today for lunch and I will never use another recipe again!

This was a quick and easy, yet tasty dinner for a busy night. The flavor was excellent, even though I did not make the Rosemary Mayonnaise and used lite mayo in its place. Next time I will go all out and make the mayo as well. Tuna with Gruyere is a lovely combo. Thanks for posting!
Gently flake tuna and place in stainless-steel bowl.
Fold in desired amount of mayo, chopped celery, and celery seed, adding salt and pepper to taste.
Lay bread on work surface.
Spread tuna on two slices and layer with Gruyère.
Top with remaining bread slices and press lightly with the palm of your hand to bring tuna just to the edges of each sandwich.
Melt a small amount of butter in a skillet over low heat and toast sandwiches until cheese melts and bread is golden brown, about 2 minutes on each side.
Transfer to cutting board and cut in half on diagonal.