Roasted Yellow Beans With Peanuts and Cilantro
Debbwl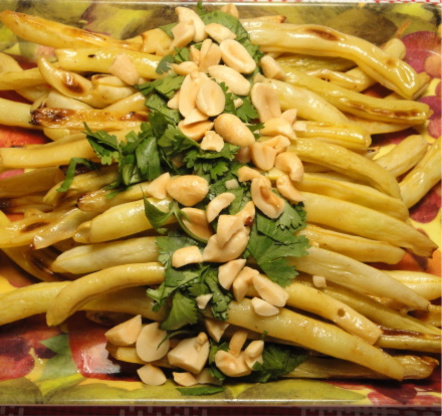 I tried this at a pot luck and the person serving it wouldn't give out the recipe. So I played around with this dish a couple of times and came up with a better version of it. Now I can't wait for the next pot luck. I'm bringing this dish and I hope that same person is there, lol.

Top Review by Debbwl
What a nice side. We liked that there was just enough sauce to give a light flavor with out overpowering the beans or over sauced them. We also like the crunch and flavor of the peanuts. Made as written, just cut in half as it was just the two of us. Thanks so much for the post.
Preheat oven to 450 degrees fahrenheit.
Toss the beans with the oil and season with salt and pepper and roast until brown in spots and tender, about 15 minutes, turning over after about 7 miniutes.
Combine oyster sauce, ginger, lemon juice and brown sugar in large bowl.
Toss in beans, peanuts and cilantro.
Serve.