Roasted Wild Turkey W/ Raspberry Sauce
tzisa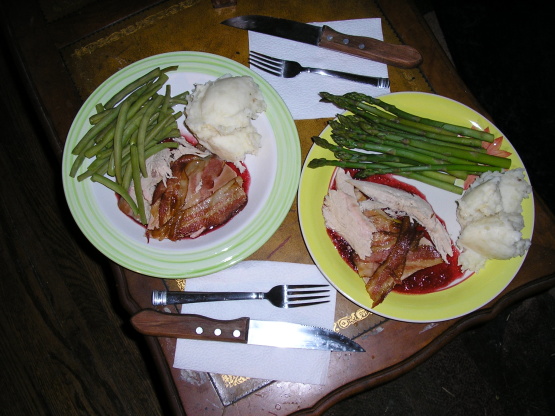 My Dad brought me a turkey that my Grandfather had shot. I'd never cooked a wild turkey before & was a little nervous that my husband would find it too "gamey". Through suggestions from Dad & some different recipes I looked at, I came up with this very easy recipe for when the great hunter brings home the goods. (I let them skin & clean the bird for me). The turkey comes out nice & moist, & the tangy raspberry sauce is the perfect compliment. Not gamey at all!! You can also throw some fresh raspberries into the sauce, if you don't mind the seeds.
Wash & dry turkey.
Mix onion, celery, bacon fat, & 1 cup wine, & stuff bird with mixture.
Salt & pepper the bird.
Lay the bacon slices over the turkey breast.
Place bird in roasting bag & pour in broth & remaining wine.
Close bag & roast at 300 degrees for 20-25 minutes per pound.
Discard onion & celery before serving.
For sauce, combine in skillet the raspberry jam, orange juice, & vinegar (also the fresh raspberries, if you're using them).
Bring to a boil & cook 2-3 minutes, until sauce is reduced to desired consistency (it will thicken as it cools).
Spoon sauce in a pool on serving plate, & top with slices of the turkey breast.