Roasted Whole Sweet Potatoes With Maple Ginger Topping
Rita1652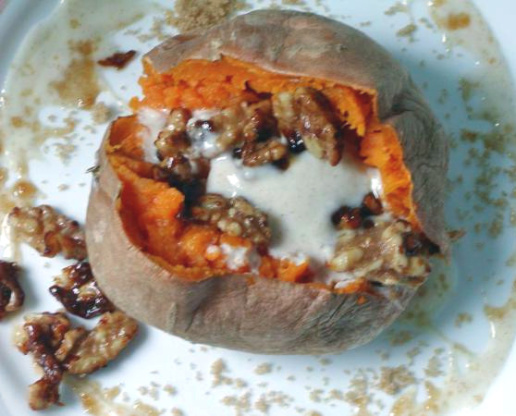 Adapted from Southern Living magazine. I used to eat a version of these at a steakhouse in Louisiana and was happy to find a recipe that comes very close. I added my own additions to the recipe to make it come closer to what the restaurant served. You may use light sour cream, reduced sodium salt,reduced calorie margarine, and sugar free maple syrup if necessary - I have made these both ways with success. Elegant enough to serve to dinner guests, and recipe doubles easily.

Love sweet potatoes and always on the look out for different ways to prepare them. These are delish. Remind me of the topping we used to get on them in a restaurant we frequented up North. Thanks for sharing.
Poke each potato several times with a fork to pierce the skin.
Set onto a foil lined baking sheet.
Bake in a preheated oven at 375 F for 1 hour or until potatoes are very tender.
Meanwhile, mix together the sour cream, syrup, salt,& cinnamon.
When potatoes are ready, slice them open, fluff the middles with a fork a bit, and top with a pat of butter (about 1 tsp or so each), a dollop of the topping, a sprinkling of the nuts, and if desired, a light sprinkling of brown sugar (or just dust with a litle extra cinnamon or cinnamon sugar).