Roasted Veggies over Creamy Polenta
Gatorbek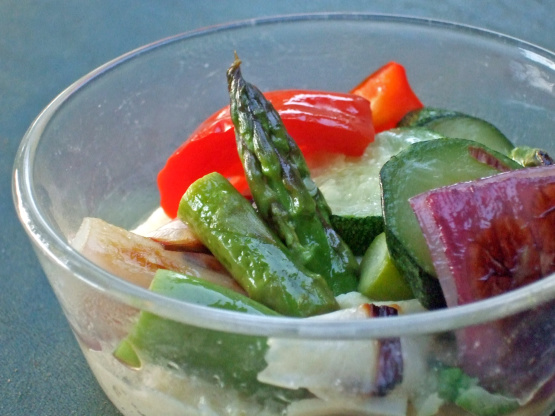 Weight Watchers recipe. Roasted zucchini and asparagus are served over a creamy polenta, low in fat and calories, but still very filling! Takes less than 30 minutes!

This is a good base recipe, but I feel like it needs a little tweaking. The veggies turned out very flavorful - the instructions don't say what to do with the garlic clove or the olive oil, so I sliced two medium sized garlic cloves with the veggies, then used olive oil spray to coat them evenly during roasting. I also added half a red bell pepper, yum! The polenta was very creamy, but needed some seasoning. I added about a teaspoon of kosher salt, but we felt like it still needed something... Unfortunately, I was out of parmesan for sprinkling on top, I'm sure that would have added to the great flavor in the veggies.
Preheat oven to 475 degree's and line 15x10x1 pan with non-stick foil and/or spray with cooking spray.
Toss veggies together (the garlic too), drizzle with olive oil and roast for 18 minutes, stirring once.
While veggies are roasting, combine red wine vinegar and splenda, set aside.
Pour milk into saucepan and set over medium heat, slowly add cornmeal and basil or rosemary, if using, and stir constantly. Heat for 5-7 minutes, until mixture thickens. This is a light & creamy polenta, so should not be dense or lumpy. Pour polenta into three serving bowls.
Remove veggies from oven and pour red wine mixture over top, stirring to combine.
Top polenta with veggies and grated parmesan cheese.