Roasted Vegetables With Lemon and Garlic (Briam)
katia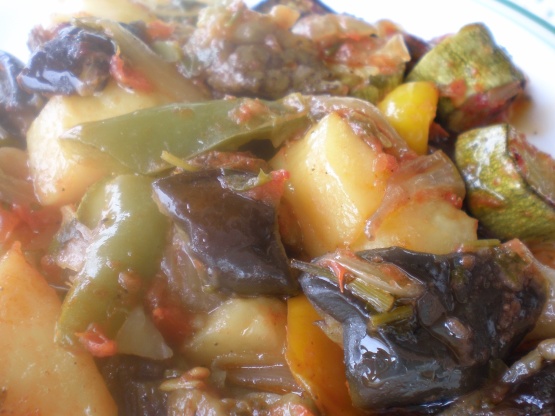 I came across this recipe in the most serendipitous manner...on my way to work going 50 mph I saw some trash blowing across the road...it got stuck to my car and I could hear it fluttering all the way to work. When I got out of my car I found a piece of newspaper stuck to my front grill. I took it off and what was it? A torn out page from a week old newspaper that has 4 yummy sounding recipes! Wow. I feel obligated to post them now. When I try this one I'll probably increase the lemon juice and use the zest. I'll also use extra garlic and add fresh oregano and crumbled feta cheese when it's almost done.

This was great - and it did work with tinned tomatoes (fresh ones here are out of season & taste gross). I used a bit more red pepper and a bit less zucchini but it didn't matter. It smelled heavenly when cooking. I did cut back on the olive oil but I don't think that mattered, and I did add more garlic (but that's because we're garlic fiends). Made for ZWT4
2

lbs tomatoes, peeled and chopped (I think canned diced tomatoes would work)
salt and pepper, to taste

1

lb potato, peeled and sliced into rounds

1

lb zucchini, peeled and sliced into rounds

1

lb eggplant, peeled and sliced into rounds (globe or Japanese)

1

cup onion, sliced

2

fresh garlic cloves, chopped

1

sweet red pepper, sliced

2

tablespoons fresh parsley, chopped
1⁄2-1 1⁄2 cup olive oil (recipe calls for 1 1/2 cups!!!)

1

lemon, juice of
Preheat oven to 250°F (it says 2500!, I think it was a typo).
Spread half of the tomatoes in an oiled roasting pan.
Lightly salt and pepper the tomatoes in the pan; spread the potatoes, zucchini, eggplant, onions and red pepper over them. Add a little more salt and pepper.
Mix the garlic and parsley together and sprinkle over the vegetables.
Top with remaining tomatoes.
Pour oil over the top to coat and sprinkle with lemon juice.
Bake for 1 1/2- 2 hours, adding a little water if necessary.