ChefLee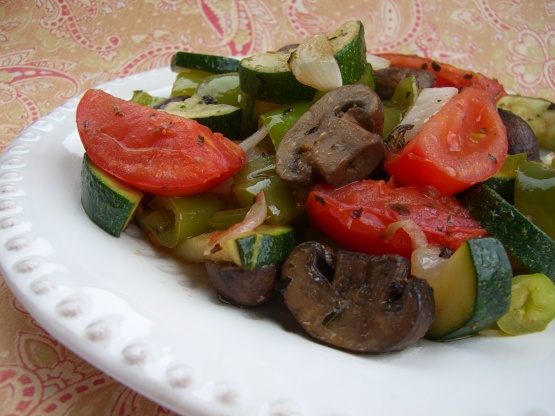 Cooking time may vary depending on your oven. I can make a meal off these vegetables.

This is really yummy! I've made it according to instruction and have also made it with other veggies like squash and potatoes. This is definitely a keeper. Thanks for sharing!
Add the first 4 ingredients to a 15x10 inch jellyroll pan; stir to combine.
In a small bowl, add the olive oil, garlic, basil, oregano, salt, and pepper; stir to combine.
Pour mixture over the vegetables; toss to coat.
Cook at 425 degrees for 15 minutes.
Add in tomatoes and stir.
Cook 5-10 minutes longer or until vegetables are tender.
Season to taste with additional salt and pepper if desired.