Roasted Vegetable Sandwich
Prep 10 mins
Cook 40 mins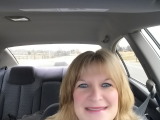 This is a good "veggie" sandwich. It's a change of pace and very tasty.
Directions
Preheat oven to 450 degrees.
In a large roasting pan or rimmed baking sheet, combine all the ingredients except the cheese and bread; toss until well combined.
Roast for 35-40 minutes, or until the vegetables are tender.
Sprinkle with the cheese and bake for 3-4 more minutes until cheese melts.
Spread evenly over the cut sides of the French Bread, then cut and serve immediately.