Roasted Vegetable-Phyllo Lasagna
Debbwl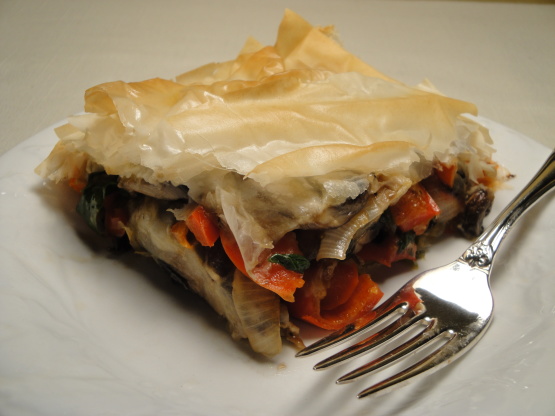 From NPR.org. "The lasagna is hearty from the portobello mushrooms, lightened up by the flaky phyllo pastry, and gives a nod to decadence with the hint of melted Gruyere cheese."

Top Review by Debbwl
Wow what a find this recipe is! Delicious, heart healthy, vegetarian and perfect for special occasions. Made using smoked gruyere (worth the extra expense as it adds just a hint of smoke flavor) and layered just a little different then dedicated. For layering did 4 sheets of phyllo with pam than half the veggies and half the cheese fallowed by 4 more sheets of phyllo and the rest of the veggies and cheese and topped off with 4 more sheets of phyllo which I did not lay flat as wanted to give the top a light ruffled look. The end result was just unbelievably nice and would be perfect for company. You know I will be making this again. Thanks so much for the post.
Preheat oven to 375 degrees.
In a bowl, combine the peppers and onion and toss with 1 tablespoon olive oil and salt and pepper to taste. Roast for about 30 minutes, until peppers and onions are soft, and their edges slightly blackened. Set aside.
Meanwhile, clean and slice the portobello mushrooms into 1/4-inch strips. Heat 1 tablespoon of olive oil in a frying pan over medium heat and saute until soft. Set aside.
Lightly grease a 9-by-12-inch pan with olive oil. Place one sheet of phyllo on the bottom of the pan and, dipping into the remaining 1/4 cup of olive oil, brush lightly with oil. Repeat with four more sheets, brushing each with olive oil.
Combine the onions, peppers, mushrooms and spinach, and stir well. Spread in an even layer over the phyllo, and sprinkle all of the thyme and cheese over the top. Add another sheet of phyllo and brush lightly with olive oil. Repeat process, brushing each sheet of phyllo with olive oil, until all of the phyllo has been used.
Cover the pan of phyllo with tin foil, and bake for 20 minutes. Remove the foil the last 3 to 4 minutes so it becomes very lightly browned. Watch carefully, as phyllo browns very quickly.
Let the lasagna rest about 5 minutes before serving.