awalde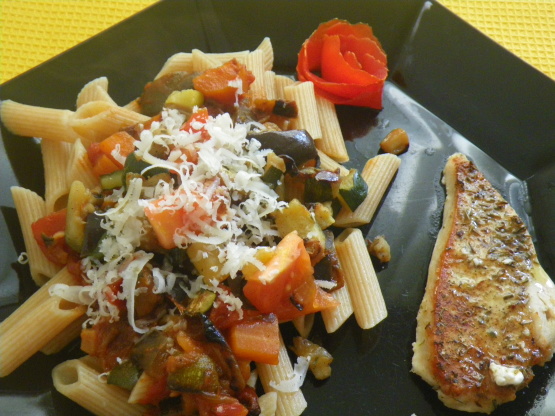 I love vegetables and pasta and i have this often. You can vary the types of veg used and sometimes i add some roasted chicken or shrimp for the carnivores in the house.

This recipe was delicious! I was surprised at how good it was with such a healthy recipe. I'm a vegetarian but my husband is not and he still loved it even with no meat added. But a warning to those with small households: this makes a LOT of veggies. I started chopping and tossing in a casserole dish not paying attention to how many veggies there really were until I filled the dish before cutting 2/3 of them and had to switch to an even bigger one. It was so good that I was happy to have leftovers but I felt like the recipe could be halved for a family of 2-4 (depending on portion size) if you don't want leftovers.
chop all the vegetables into equal sizes and put into a bowl.
add to them the sugar, salt, pepper, olive oil and the italian seasoning.
mix well together.
heat the oven to 350'f/180'c.
place the vegetables into a large baking dish and put in oven for 45 minutes, stirring a couple of times.
take half of the vegetables and put into a blender or food processor with the glass of white wine and whiz to a puree.
pour this mixture back into the dish and mix with the vegetables.
add the fresh basil leaves and olives and return to the oven for 10 minutes.
mix together with some freshly cooked pasta, add the parmesan and serve.