loof751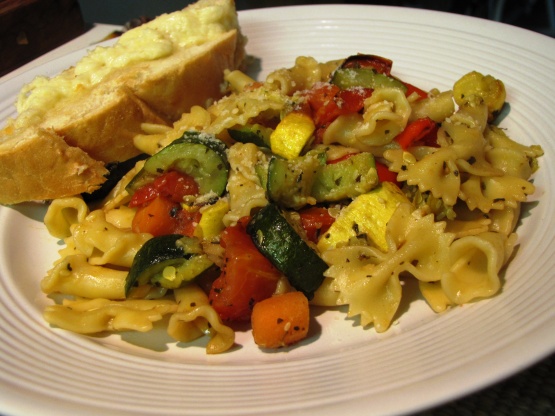 I have recently joined a "Biggest Loser" group in my town and one of our assignments for the week was to randomly pick a recipe from a stack of cards and make it for our family. I would definately recommend making this when the veggies are in season as it is expensive when they are not!! I also prefer to sprinkle mine with a little sea salt or parmesean cheese

Wow this was really good! I left out the shallots and used a mixture of various shapes of pasta I had in the pantry, otherwise made as specified. I used the balsamic vinegar and did top with just a little parmesan and salt as you suggested. Light and fresh and so easy to make - thanks for posting this great recipe! Made for Spring PAC 2009
8

ounces whole wheat rotini pasta, uncooked

1

large eggplant, cut and trimmed into 1 inch pieces

1

red bell pepper, cut into 1 inch slices

1

medium zucchini, halved and cut into 3/4 inch slices

1

yellow squash, halved and cut into 3/4 inch slices

1

small carrot, peeled and cut into half inch pieces

2

roma tomatoes, cut into eights

2

medium shallots, quartered

2

garlic cloves, quartered

1

teaspoon dried basil

4

tablespoons olive oil, divided

1

tablespoon balsamic vinegar or 1 tablespoon red wine vinegar
Preheat oven to 425.
cook rotini according to package directions. rinse in cold water; drain.
in large bowl combine all veggies and basil; mix lightly. drizzle with 2 tablespoons of olive oil; toss to coat.
spread mixture in baking pan, roast 35 mins or until veggies are tender, stirring occasionaly.
in large bowl, combine pasta, roasted veggies, remaining 2 tbs of olive oil and vinegar; toss to mix.
season to taste with salt and pepper.
serve at room temperature or slightly warmed.