Roasted Vegetable and Gruyere Quiche
PanNan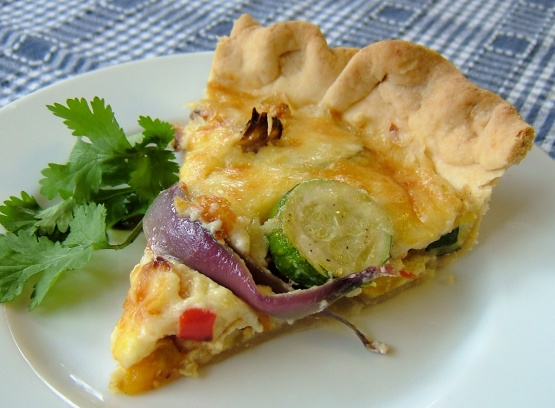 This is from a supermarket magazine I picked up. It's a great recipe for picnics or for a light summer dinner served with a side salad. Roasting the vegetables before using them in the quiche means a little more effort, but it's well worth it as it really brings out all the sweetness and flavours.

Top Review by Essdee
This was excellent! Readers' comments were helpful as I tried different vegatables to suit my taste- zucchini, yellow squash, fresh mushrooms & red onion. A friend recommends adding 1/4 t ground ceyanne pepper to any quiche as they tend to be bland otherwise. I did this and it is fabulous. It gives it warmth without the heat, with no complaints from my Scandanavian palates. Baking the crust and roasting the veggies a day ahead made the prep on the day of a snap. 4 oz of gruyere shredded seemed like a lot but it baked up beautifully! Thank you for sharing!
Preheat oven 200°C/400°F/Gas6.
Rollout the pastry and line a deep 10 inch/25 cm flan tin.
Line with baking paper and baking beans and blind bake for 10 minutes.
Remove paper and beans and return to bake for another 5 minutes.
Place all the vegetables on a baking tray and drizzle with olive oil.
Roast in the oven for about 25-30 minutes until slightly charred.
Set aside and cool slightly, seperate the onion layers.
Reduce the oven temperature to 180°C/350°F/Gas4.
In a bowl whisk the eggs with the milk, stir in the cheese and season with salt and pepper to taste (you can also mix in a few of your favourite herbs).
Spread the vegetables over the bottom of the pastry case and pour the egg mixture over.
Bake for approx 30-35 minutes.
Can be served hot or cold.