Roasted Tomatoes With Shrimp and Feta
Ms B.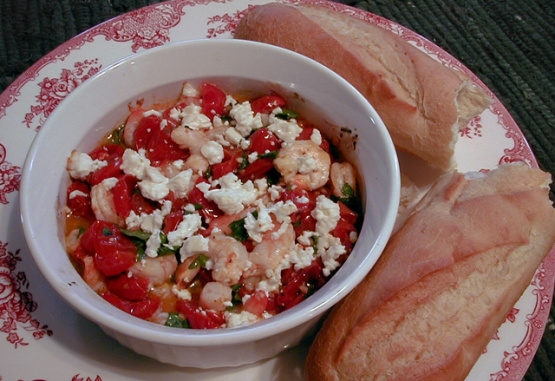 This is a great recipe to use up ripe, end of summer, tomatoes and it just could not be easier. I found this in Real Simple magazine and didn't change much except to up the amount of garlic, use less if you wish.

I cooked this some time ago, but did not write a review. I admit embarrassingly to using frozen shrimp which I had on hand in the fridge. oops! Oh well, sometimes life gets busy. I always have feta cheese, and great tomatoes and garlic. Well this was a fantastic quick dinner for my husband and I, before we had to run to the next responsibility. By the way, the addition of garlicky toasted bread this worked out fantastically! Add the shrimp at the last minute, if you use precooked frozen. I have tried a couple of Hey Judes recipes....delightful! Thank you.
Preheat oven to 450°.
Place the tomatoes in a large baking dish and spoon the olive oil and garlic over; sprinkle with the salt and pepper and toss.
Place on top rack of oven and roast for 20 minutes; remove baking dish from oven and stir in shrimp, parsley and lemon juice; sprinkle with the feta.
Place back in oven for another 10 to 15 minutes, or till the shrimp are cooked.
Serve warm with crusty bread.