Roasted Tomatoes, Onions, With Mozzarella & Cucumbers
xflisa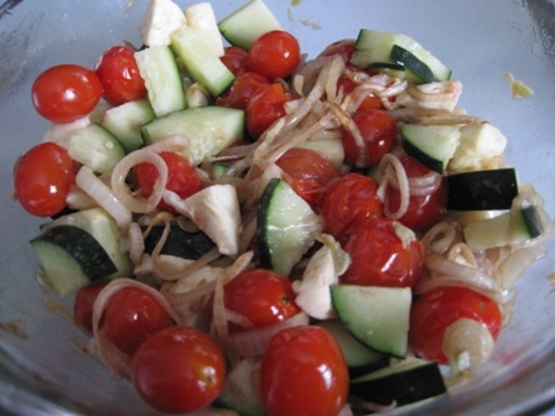 Very tasty. I had a problem with the temperature and cook time. I had to go up to 400 for the last 10 minutes and it was still not done enough on my onions. I put in the cucumber to bake for my picky son who hates both tomatoes and cucumbers. He even loved it. He said it tasted like pizza salad.
preheat oven to 250.
mix cherry tomatoes, onion slices, garlic cloves & scallion in a glass bowl, tossing in the extra virgin olive oil & then the balsamic vinegar.
roast on a baking sheet for an hour.
return roasted mix back to the glass bowl.
while still warm, mix in the mozzarella, so it melts slightly.
let cool about 10 minutes, then add in cucumber.
enjoy!