Ashley Cuoco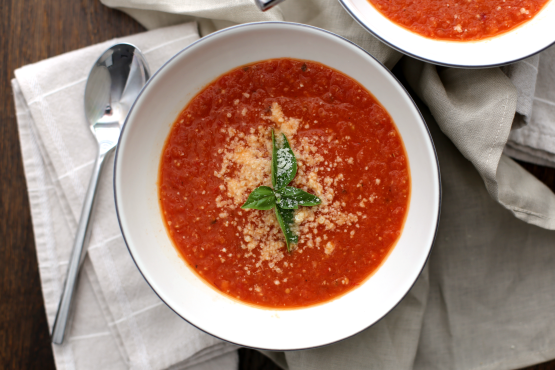 Recently had an extra pint of cherry tomatoes on hand and was in search of comfort food. Devised this soup in a pinch and thought it was worth sharing. Mine was a quick soup for one but the recipe has been scaled up and uses the more economical Roma tomato. If you have lots of cherry or grape tomatoes -- they have a sweetness that pairs beautifully with the vinegar -- use them or do a mix with the roma tomatoes. If you are making this Kosher, skip the cheese or be sure to use vegetable broth.

I've made this twice now and think it's an AMAZING recipe. I made it exactly as written, but just ran the whole soup through a mess strainer to get the tomato seeds and any tomato skins out. I also added maybe a quarter cup of milk because I actually thought the soup was almost too intensely flavored. Thanks for the recipe!
Pre-heat oven to 375 degrees.
Wash and cut tomatoes, placing in a shallow baking dish cut side down.
Add onion pieces, garlic, oregano and basil to the pan.
Drizzle vegetables with olive oil and balsamic vinegar.
Season with salt and pepper.
Bake for 45 minutes.
Place roasted vegetables in food processor bowl or blender and begin puree. Slowly add broth or water until soup has desired consistency. Continue blending until smooth.
An immersion blender also works very well. (If you warm the broth first, the soup will be hot without reheating.).
Serve garnished with cheese if desired.