Boomette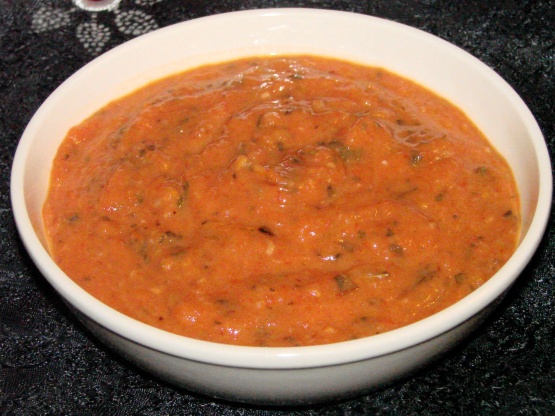 This is so easy to make and Feingold friendly. I normally make up a huge vat of this and then freeze the leftovers. So add ingredients accordingly. I also add some sour cream or heavy cream and turn this into a tomato soup base. It's then easy to throw in tortellini or pasta for texture.
This sauce is amazing. I used maybe a bit more of 1/4 cup of fresh basil. And I used only 4 garlic cloves. I baked it 30 minutes. I pureed it in the food processor. Great taste. It will be great with pasta. Thanks Feingold Mom :) Made for Alphabet tag game
Preheat oven to 450.
Cut the tomatoes in half and dump them into a roasting pan or a baking sheet with sides.
Chop up half an onion and a few cloves of garlic per pan, or more if you like, and dump that in too.
Coarsely chop some fresh basil and add that.
Stir this all together and spread it out evenly; crowded is fine but no more than a single layer.
Drizzle on some olive oil and sprinkle with salt.
Roast for 20 minutes or until the tomatoes collapse and the skins look browned and wrinkly. Let the pan cool and then scrape everything into a blender or food processor and puree. Use or freeze.