Nanners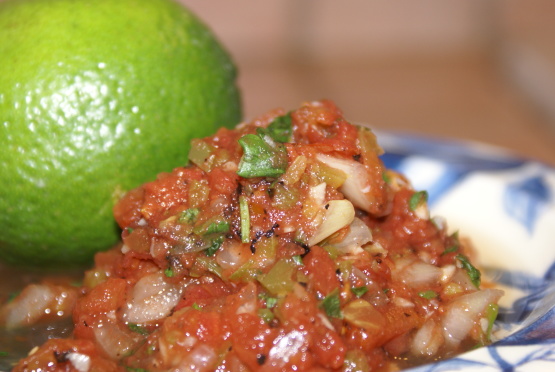 'From Rick Bayless' cookbook Mexican Everyday. I love this because you can make this in the winter when fresh tomatoes aren't available. It's important to use high quality fire-roasted tomatoes - preferably organic. I like Muir Glen.

This was DELICIOUS! I love the fire-roasted flavor of the tomatoes ~ I did not include the jalapeno seeds, so this was not too spicy for us. the dry roasting of the garlic and peppers really added to the flavor. Served with organic blue tortilla chips ~ YUM :) I think this is my new favorite salsa recipe. Thanks Nanners! Made for Iron Chef, September 2009!
Dry roast the garlic and the jalapenos over medium heat in a skillet until soft and blotchy black spots appear. This should take 10-15 minutes, and the jalapenos may be done sooner than the garlic.
Meanwhile, thoroughly rinse the onions in a strainer with cold water. Drain thoroughly, lightly squeezing out water with a paper towel if needed. Place onions in a large glass bowl.
After roasting, remove the stems from the jalapenos. If you like super spicy salsa, do not remove the seeds. If you like it milder, remove the seeds or some of them. Remove the papery skin from the garlic.
Place jalapenos and garlic into food processor and pulse until finely chopped. Add the tomatoes and their juice and pulse until it's of your desired consistency. I like mine chunkier.
Pour this mixture on top of the onions and mix.
Add the cilantro and stir thoroughly.
Taste and season with salt and lime juice.
Note: if you won't be using the salsa for a few hours, wait until closer to serving to add the onion and cilantro.