Linajjac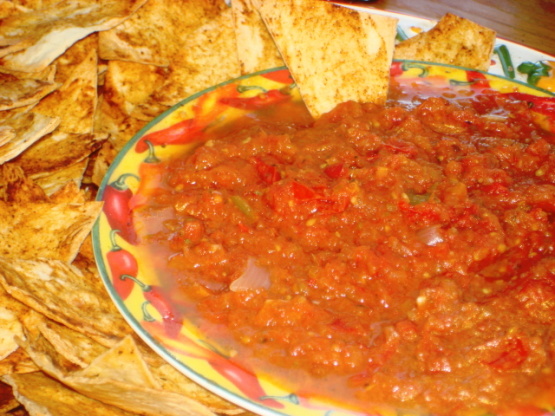 From Cook's Illustrated, yet another salsa recipe but rather than a quickly thrown together standard tomato/jalapeno/cilantro mix, this one uses oven roasted Roma tomatoes and jalapenos to deepen the flavors.

Wonderful salsa! It was a bummer I was out of fresh cilantro. I ended up using dried instead. The flavor of this salsa is top notch! I made a double batch. YUM! I know whis will be even better with fresh cilantro. My only changes were extra garlic and a few more jalapenos. You have some pretty good recipes! Looking forward to trying more! Served the salsa with #241546 Thanks for sharing! :)
Preheat oven to 375 degrees F.
Line a rimmed baking sheet with foil for easier cleanup.
Mince 1 of the jalapenos and set it aside.
In a large bowl, combine the remaining jalapenos, tomatoes halves, onion, garlic, tomato paste, 1 tsp salt, 2 tablespoons oil, cumin and cayenne. Toss gently to thoroughly mix. Place on the baking sheet, cut sides down where applicable, and roast until the tomatoes are tender and skins begin to shrivel and brown, 35-45 minutes.
Cool on the baking sheet for 10 minutes.
With tongs, transfer roasted onions, garlic and jalapenos to food processor. Process until the mixture is smooth, about10 seconds. Scrape down sides of bowl. Add tomatoes and process until they're chunky - 5-10 seconds more.
Pour into serving dish and stir in reserved minced jalapeno, cilantro and lime juice. Add salt to taste.
NB - If your tomatoes are very acidic, add sugar, a little at a time, to mellow the flavor to suit your taste.
Serve with your favorite chips, over eggs, to make nachos, just with a spoon -- ;-).