PetsRus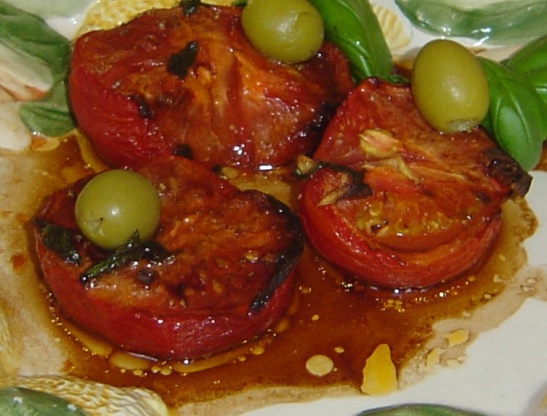 A starter or side dish, but I could eat these as a main course with some good bread. I have been making these for years now but mainly in the summer months. Its a Delia Smith recipe. I probably use more garlic. If you made these a few times you will find you don't have to refer to the recipe anymore, just get your roasting tin full of the tomatoes and add the seasonings. The dressing is easy to remember too. This is a top summer dish. Can be made in advance.

These are BEYOND five star! The recipe sounded so simple, I wasn't expecting to be so very impressed by this. I had about a dozen home-grown tomatoes that were going to go bad if I didn't do something with them, so chose this recipe for it's ease in preparation. It's SO GOOD! Don't be alarmed if the juices in the pan get really black. The bits of black that cling to the tomatoes seem to melt into the dressing giving it a wonderful flavor. You must try this! I'm fixing another batch, tomorrow. The tomatoes cook down quite a bit so you may want to roast even more than twelve! Thanks a bundle, PetsRus. Super recipe! :)
Preheat the oven to 400 degrees F.
Skin the tomatoes, cut a cross at the bottom, pour boiling water over them, leave for up to a minute, drain and slip off their skins.
Cut them in half and place them, cut side up, in an oiled, approx 16x12 inches, roasting tin.
Season with salt and pepper, sprinkle evenly over them the garlic and the olive oil.
Tear the basil leaves in half and put them on the tomatoes, flipping them over so they get some oil.
Place the tomatoes in the oven and roast them for 45 minutes to an hour depending on your oven (the edges should be slightly blackened) Remove from the oven and cool.
To serve, transfer them to induvidual or a large serving plate (with their juices) whisk together the oil and the vinegar, drizzle over the tomatoes.
Have some nice crusty bread on the side.
Scatter over more basil and the black olives.