Roasted Tomato and Habanero Sauce
teresas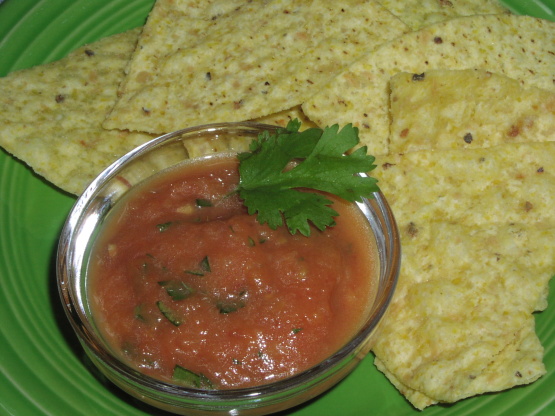 This recipe is not for the faint of heart. This is a VERY HOT sauce. Great for chips. Use caution when handling the habanero chilies. From Fast, Fresh and Spicy Vegetarian, by John Ettinger.

I loved this roasted sauce. So much better then you can ever buy or even get in a restaurant. I halved this recipe, using 3 large roma tomatoes and 1 habanero pepper. Reduced the oil lightly on the tomatoes and habanero. I also roasted a small onion right along side of the habanero so when I pulsed it in my blender it was all combined and beautifully too. This is really great, and I bottled the rest of the sauce to sit inside my fridge just waiting for me to use on the next chip. Terrific mary! Thanks! Made for *SSC Pet Parade*
.Preheat oven to 300 degrees.
Place tomatoes in a roasting pan and rub with most of the olive oil. Bake for 1 hour, stir gently once to prevent sticking. Rub peppers with some oil and add to the tomatoes.
Return to the oven for 20 to 30 minutes, stir, then bake another 10 to 15 minutes.
Remove, place in a blender with the onion, water and vegetable oil, and puree. Stir in cilantro and salt.