Roasted Tomatillo Guacamole
WiGal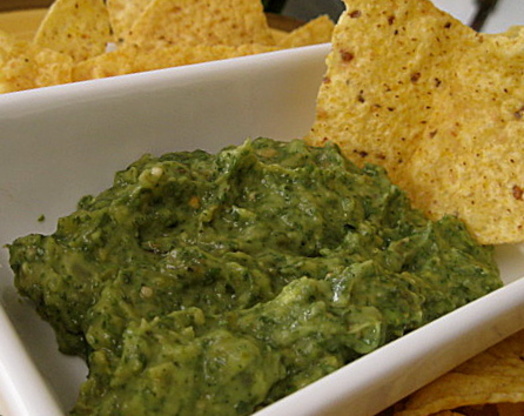 Another great recipe from Sunset Mag - The roasting step can also be done on a grill.

I only discovered that I love avocados fairly recently. I was always afraid to try them in the past. Now I can't get enough! This recipe really is fantastic. I loved the tomatillo and avocado together. It's so easy and tasty. This is definitely a keeper. Thanks for posting!
1 -2

fresh jalapeno, stems removed, and chiles halved and seeded
1⁄2 medium white onion, peeled

1

garlic clove, peeled

1

tomatillo, papery skin removed

1

avocado, peeled and cut into chunks

1

tablespoon lime juice (plus (to taste)
1⁄3 cup loosely packed cilantro leaf, chopped
1⁄2 teaspoon salt (plus (to taste)
1⁄4 cup water
In a large, unoiled frying pan over medium heat, pan-roast the Jalapeños, onion, garlic, and tomatillo on all sides, 20 to 25 minutes total.
In a blender, whirl the vegetables with water until blended but still chunky.
Add avocado and lime juice; pulse until blended.
Add cilantro and salt, pulse to combine, and add more salt and/or lime juice to taste.