3 Reviews
WOW loved these potatoes. The sauce is really great and will make it all the time. I did have balsamic glaze so used that and added the other ingredients. Can't wait for more. Will purposely buy sweet potatoes just for this recipe. I did bake in the oven for 20 min. and then on the grill with the salmon for 10 min.

We really enjoyed the flavors in this dish. It was not overly sweet, the reduced balsamic was a nicely combined with the honey. I loved the zing of the ginger! It's a winner. The potatoes cooked up in about 25 minutes. MAde for Best of 2012 Tag Game.

This was such a unique combination of ingredients that resulted in a flavor-packed dish! This was a big hit on my Easter dinner table that would be lovely for any holiday. The potatoes cooked up quickly and the whole recipe was super easy. It takes much less time than 50 minutes because you make the glaze while the potatoes are cooking. The only real work is peeling and cutting the potatoes! Thanks for sharing this wonderfully different recipe. Made for Spring PAC 2012.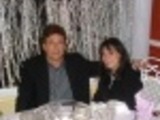 Roasted Sweet Potatoes With Orange Marmalade and Balsamic Glaze