NELady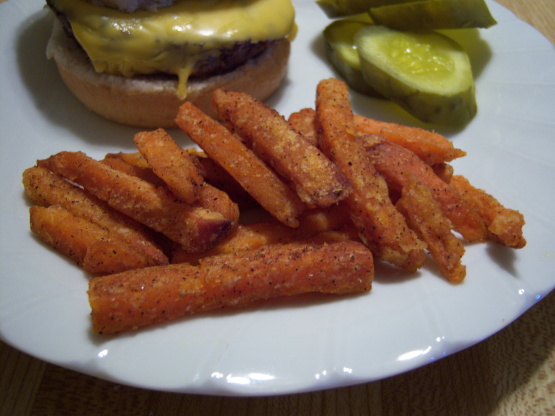 This Paula Deen recipe for roasting sweet potatoes is a little different because it adds a little sweet and a little spice together. The presentation of these roasted potatoes and the taste are both wonderful.

Was having out-of-town friends stop for lunch on their way up the coast. Knew I wanted to roast sweet potatoes, but but forgot how high/how long ! Found about 30 recipes here -- ALL a tad different ! Followed directions here, except for cinnamon and nutmeg, and added 1/2 TBS of dried rosemary. Halved to recipe for 3 potatoes -- 1/2 cup olive oil. I placed the potatoes on a rimmed sheet and poured the oil mixture over -- likely my mistake. At 425*, the 1/4 inch slices were soft and the oil bubbling away, and obviously NEVER going to crisp, so took the slices out and let them bake at 400* for about 5 min., then put them in the warming drawer for about 20 min. VERY tasty -- but next time I will drain first. Thanks for posting, Carol. Happy Holidays !
Preheat oven to 425°F.
Wash potatoes and slice lengthwise into 1/4-inch wedges. (I peeled my sweet potatoes because I don't like having to deal with the skins when eating. They roasted just fine without the skin.).
In a large bowl combine olive oil, salt, pepper, nutmeg, cinnamon, and red pepper. Add potatoes, tossing gently to coat.
Place potatoes on a large rimmed baking sheet. Bake for 30 minutes, or until tender on the inside and golden on the outside.