Roasted Sweet Potato & Garlic Soup
katew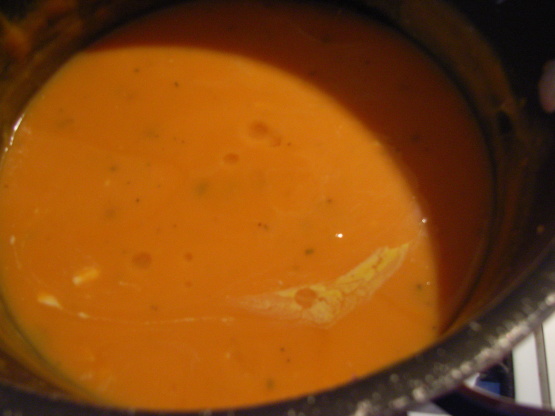 This recipe is from a free recipe book from Philadelphia Cheese upon the purchase of 3 products. I love soups and I love sweet potato (very diabetic friendly) so looking forward to winter to trying this.

Really quite good and fast to make. I had a little kitchen disaster but it still worked out. I made only half the recipe, and put parchment paper in my baking tray because I could not find the foil. But I did not trim it quite enough - not a problem in the oven but a problem in the countertop - yes, putting out flames and hoping the smoke alarm does not go off I had to rinse the veggies but I think I had a little extra "fiber" in the soup. Anyway, I buzzed both before and after adding the cream cheese, made it incorporate better. Half the recipe was two generous servings for us.
1

kg sweet potato (peeled and chopped)

1

onion (roughly chopped)

1

head garlic (broken into cloves and peeled)

1

tablespoon olive oil

6

cups chicken stock

0.55

lb cream cheese (light cubed)
1⁄4 teaspoon salt (or to taste)
1⁄4 teaspoon pepper (or to taste)

6

teaspoons parsley (for garnish)

6

slices ciabatta (or other crusty bread to serve)
Preheat oven to 200°C.
Toss the sweet potato, onion and garlic in oil.
Place on a lined oven tray and bake in oven to bake for 20 - 25 minutes or until tender.
Place the roasted vegetables in a large saucepan with stock and bring to the boil and then remove from the heat and allow to cool slightly and then blend with a stick blender in the pot or in batches in a food processor and return to the pot.
Whisk in the cream cheese into the soup until smooth and simmer for a further 5 minutes until well heated.
Season to taste and serve in bowls and garnish with parsley and serve with crusty bread.