Roasted Sweet Potato Fries or Rounds
Prep 15 mins
Cook 20 mins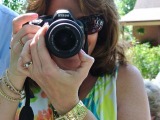 A nice change of pace from "regular" fries. I like dipping them in sour cream or eating them plain.
Directions
Scrub the sweet potatoes, leave unpeeled, and cut into fries or rounds. (Trust me, rounds are much easier!).
Combine olive oil and melted butter.
Arrange the potato slices, not touching, in rows on a baking sheet.
Lightly brush the potatoes with the oil mixture; being careful to not use too much or the fries get mushy.
Roast at 450°F for 18 to 22 minutes, or until they are golden and crisp, turning them once with a spatula.
Transfer the potatoes to paper towels to drain, sprinkle them with the salt to taste, and serve them warm.
Note: can be sprinkled with cinnamon sugar instead of salt.
Reviews
Most Helpful
This is an easy and delicious way to prepare sweet potatoes! I cut mine into rounds, as suggested, and seasoned them with both salt and pepper before roasting. They came out beautiful and were extremely tasty! I will definitely be making this recipe again!
This is a very simple way of preparing sweet potatoes! I simplified it even more by using butter-flavored cooking spray on the rounds and then sprinkling with salt and pepper. I look forward to experimenting with other seasonings.

I've made this a few times except I toss my potatoes in the olive oil and butter, add cracked pepper and garlic salt before I cook and even add a little cayenne pepper for a pop of flavor. I also cook them on my pizza stone. Perfect every time!
Get Healthy Your Way