Roasted Sweet Onions Julia Child
Rita1652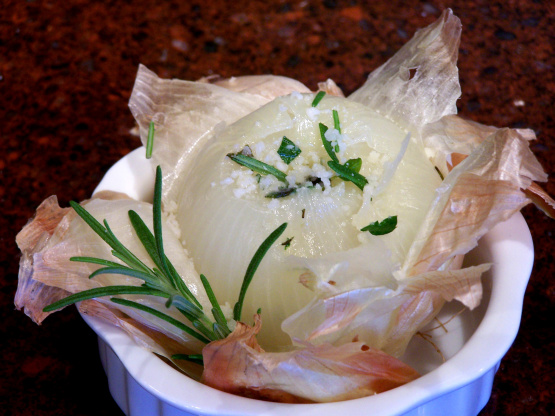 "... a very simple one [recipe] that I (Julia Child) use a great deal, which is just roasting a whole onion. It's such an easy way to do them and they're so delicious." I "Rita" tweaked by adding herbs and a compound butter making this just so yummy! Thanks Julia! Must say love your kitchen!

Yum! What a great, simple way to prepare onions. I used the roasting method and seasoned with garlic infused olive oil, cheddar cheese, chives and parsley. I look forward to experimenting with other flavor combos. Thanks for sharing! ZWT8
Pierce a whole sweet onion in five or six places with a knife or a pointed chop stick.
Put it as is either in a 450 degree oven for 45 minutes (this method will caramelize)or in the microwave oven for 5 on high( this method is steamed but so quick).
Remove from oven; cut it in half or open it up.
Sprinkle it with grated cheese and olive oil or butter, herbs, salt and pepper.