Roasted Sweet Onion and Garlic Spread
Debbwl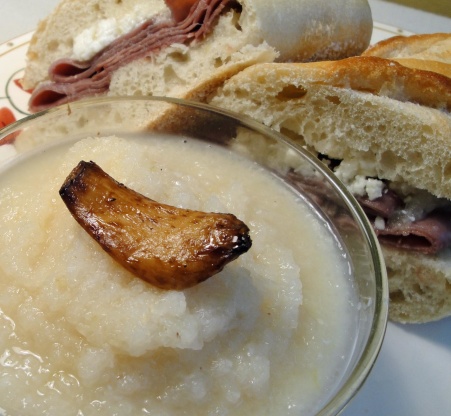 For all you garlic lovers out there! This could be served with a salad or use it as a spread on sandwiches.

Top Review by Debbwl
What a sweet and flavorful spread! Made without the honey and am so glad I did as the onions turn very sweet with the roasting. Was very tasty on roast beef sandwiches and am already planning on using the remaining on grilled veggies. Thanks for the post.
Peel and quarter onions.
In a large bowl stir together oil and honey.
Add onions and garlic, stirring to coat.
Transfer mixture to a greased 2-quart square baking dish.
Bake, uncovered, in a 350* oven for 30 to 40 minutes, stirring occasionally.
Remove from oven; cool.
Place in food processor bowl or blender container.
Add salt; cover and process or blend till smooth.
Serve on toast points or crusty French bread.
Store any leftovers, covered, in the refrigerator for up to one week.
Makes about 1/2 cup.
Enjoy!