Roasted Sunchokes/ Jerusalem Artichokes
Rita1652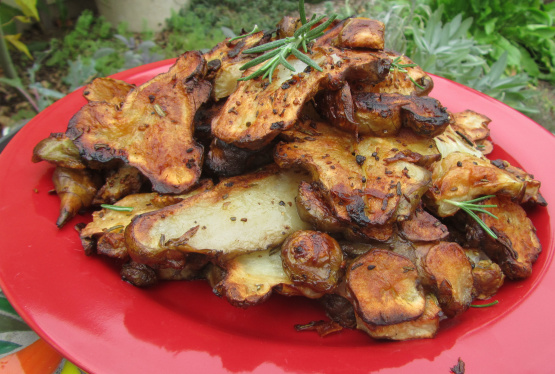 I just pulled up 20 pounds of sunchokes from one plant. A knobby tubers look a lot like ginger root is in the sunflower family. Its nutty in flavor and has a nice crunch No need to peel but does need a very good scrubbing with a stiff brush. Sunchokes also contain vitamin C, phosphorus and potassium and are a very good source of iron. This tuber is very rich in inulin, a carbohydrate linked with good intestinal health due to its prebiotic (bacteria promoting) properties. These benefits come at a healthy price; the food can have a potent wind-producing effect. Inulin a type of carbohydrate that is a derivative of fructose. We don't have the digestive enzymes for this, and foods that we can't digest cause gas. Which is why the seeds play a role in this recipe. They are in for flavor as well as helping with the bloating and gas. It's volatile oils reacts efficiently in treating the gastro-intestinal tract. The main properties of the herb make it an effective stimulant of gastric secretion, it regulates stomach functions; it has anti-inflammatory properties for the intestines; it is a gastric and intestinal antiseptic and diuretic. The seeds help in stimulating food appetite and digestion, As it does your breath good! The seeds are an excellent source of minerals like iron, copper, calcium, potassium, manganese, selenium, zinc and magnesium.

Oh Miss Rita!!!! My husband pulled about 3lbs of these weird things from the garden and I started to search recipes. I found one by you and knew this was the one. AMAZING! As usual, I follow your recipes to a T the first round and tweek them if needed. This was such an usual combo of spices, but it really works!! I love them! I had to use extra oil to keep them from sticking to the pan and I added extra salt. Oh, I didn't have cardamom seeds, only ground, so I used a tiny pinch of that. PLEASE do a cookbook already!!!! Thanks for another gem~
Preheat oven to 425.
Pour oil on 2 sheet pans. Place half of the drained chokes on each pan tossing to coat with oil.
On a wet cutting board place the seeds and chop with a sharp knife. To grind and leave some whole.
Add remaining ingredients to the seeds, toss to combine.
Distribute the seeds mixture on the sunchokes.
Roast for 15 minutes flip roast 15 more minutes. Or until chokes are crisp and tender inside.Just like a roasted potato.
Garnish with additional seeds and rosemary.