Roasted Summer Squash Boats
Kitty Z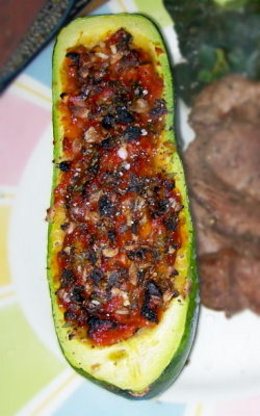 Something a little different for your squash, inspired by twice-baked potatoes. This will work better with a straight, long squash

These are wonderful! I used zucchini, and didn't have mozza...so used cheddar. Quick and easy! Had to bake mine for 35 minutes...I guess it is because we live at a very high altitude and everything takes longer to cook. Just right for the two of us. Thank you for sharing. Will definately be making these again!
Slice squash in half lengthwise. With a sharp spoon, scoop out the soft inside portion of the squash to form a canoe shape. Chop the squash innards roughly and set aside.
Heat oil in a frying pan. Add onions and garlic, saute for one minute.
Add squash innards and cook, stirring, about 2-3 minutes until most of the excess water has evaporated.
Mix in cheese and tomato paste, cook 2-3 more minutes.
Spoon this filling evenly into each squash boat. Sprinkle seasoning and pepper on top.
Place boats in a nonstick baking dish, and bake at 170C for 20-25 minutes (depending on the size and thickness of the boats).