Roasted Strawberry & Basil Cream Pie from Kale & Caramel
Food.com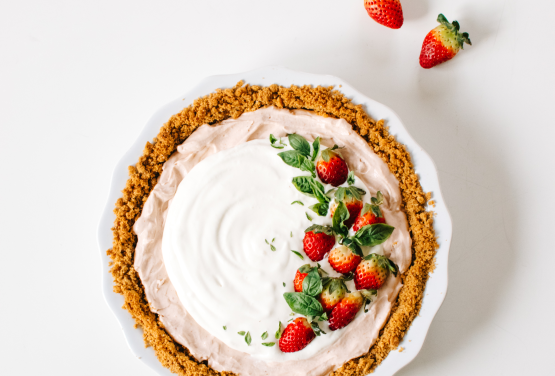 Text excerpted from KALE & CARAMEL © 2017 by Lily Diamond. Reproduced by permission of Atria Books. All rights reserved. <br><br> Going with the flow is not something at which I'm exceptionally skilled, at least when it comes to matters of the heart. While my father moved forward with his life in the wake of my mother's death, finding a new partner, Susan, and making a new world for himself, I clung to my hurt. When he tried to convince me to spend time with him and Susan, I resisted. Susan, patient saint of beauty and composure that she is, knew better than to force the issue. She let me be. She let me feel. She knew it would take time. And she made me cream pie. The thing is, I'm not a cake person. I've tried to be, I've tried to like its layers and its shapely form. But there's something about cake that just makes me want pie. So when Susan introduced a graham cracker crusted lilikoi (passion fruit) cream cheese pie into my life, I knew I was ready to love her. I decided it was far more delicious to eat lilikoi cream pie than it was to wallow in the bitterness of grief. Susan's lilikoi cream cheese pie was the inspiration for this whippy, pale pink, basil infused strawberry version, and I'm not going to lie to you: When I dished this up and my friends took their first bites, someone uttered, "This is what cream pie should be." This is our first fresh herb infusion, a process I've come to love as much for the poetry of its steps as for the potency of its results. Infusing herbs involves heating a base liquid and then adding the leaves. The heat coaxes out the herb's oils and essence, yielding incredible fragrance and flavor. Infusions do call for a patient hand and a willing heart. The results are always worth it, I promise. Welcome to the cream pie of my strawberry basil dreams. - Lily Diamond
Make the Whipped Cream:.
In a small saucepan, heat the heavy cream over medium heat. When steam rises, slightly crumple the basil leaves, add them to the cream, and reduce the heat to low. Stir and compress the basil with a wooden spoon or silicone spatula, cooking for another 1 to 2 minutes. Do not let the mixture boil. Remove from the heat and let the basil steep for 30 minutes, covered. When the basil has finished steeping, strain the cream and discard the basil.
Let the basil-infused cream cool, then whip with the honey until soft peaks form. Set aside in the fridge.
Make the Crust:.
Preheat the oven to 375°F.
In a small saucepan over low heat, melt the butter. Crush the graham crackers in a food processor or blender until they have a sandy texture. Don't over-blend into a flour. Pour the crumbs into a large bowl and mix in the sugar, butter, and salt. Mix until you have a wet sand-like blend.
Press the mixture evenly into the bottom and up the sides of a 9-inch pie pan. Bake for 10 to 12 minutes, until golden brown. Remove and let cool completely on a rack.
Make the Filling:.
With the oven still at 375°F, cut the strawberries in half. Place in a large bowl and toss gently with the sugar. Arrange them on a parchment-lined rimmed baking sheet and bake for 25 minutes. Remove from the oven and let cool for 10 minutes. Transfer to a food processor or blender, puree, and set aside to cool completely.
Whip the heavy cream in a large bowl until soft peaks form. Set aside.
In a second bowl, whip the cream cheese, cooled strawberry puree, and honey until completely smooth, about 5 minutes. Fold the whipped cream into the strawberry cream cheese mixture until incorporated and even in color.
Assemble the Pie:.
Once the pie crust is completely cool, spread the strawberry cream cheese mixture into the bottom of the pan. Spoon the basil whipped cream in a smaller circle over the top of the strawberry filling, leaving a 2-inch border.
Garnish with fresh strawberry halves and small basil leaves. Chill, covered in plastic wrap, for at least 2 hours.
Slice and serve with extra strawberries and a sprinkle of minced fresh basil leaves and small, whole leaves for garnish.
Recipe courtesy of Kale & Caramel by Lily Diamond. Get the book here: http://www.kaleandcaramel.com/book.