Roasted Strawberries With Wine & Balsamic Vinegar Sauce
Boomette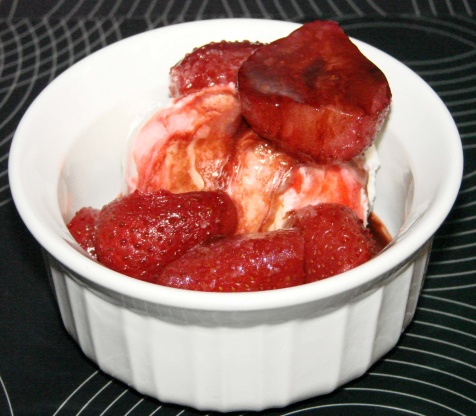 I have yet to try - but didn't want to lose this recipe! It was sent to me via email from Glutenfreeda.com! I cannot wait for fresh summer strawberries to try it!!! Let me know what you think if you get to it before I do!!
It's great but I thought it would be better. Maybe the strawberries should be roasted longer to give a special taste. I removed them from the oven when they were moist but they didn't get any color. The sauce is great, but I was not too sure about the wine. I'll try the leftover on pancakes. It should be great. Thanks ukichix :) Made for Bargain Basement tag game
preheat oven to 400°F.
Add 2 Tbsp butter to oven safe skillet and melt in oven. Add Vanilla to butter to butter and combine.
Place strawberries, cut side down in skillet andsprinkle with brown sugar. Bake at 400°F for 10 minutes or until berries are soft. Remove pan from oven.
With a slotted spoon, remove berries from pan and set aside to let cool.
Add wine and vinegar to skillet and simmer over medium heat until reduced slightly.
Remove from heat and whisk in chilled butter.
To serve, spoon ice cream into dessert bowls, top with warm strawberries and drizzle with sauce.