Roasted Squash and Sage Pizza (Or Pita Pizza or Burrito)

This is my favorite pizza ever. The roasted goodness of the squash goes perfectly with the tang of the tomato sauce. It looks like a long ingredient list, but it's mostly spices. This recipes makes enough toppings for two big pizzas, 6 pita pizzas, or 6-8 burritos. Everything can be made ahead and then assembled and popped into the oven. Adjust the level of "hot" you like by increasing or decreasing the red pepper. If you only want to make one pizza, halve the ingredients (except for the squash and sage, you gotta roast the whole thing -- and you'll love the roasted squash as is as a side dish.) I found this recipe in the September 2008 issue of Delicious Living magazine.
Directions
In a large bowl, combine squash, half the chopped sage, 2 tablespoons olive oil and 1/2 teaspoon salt.
Transfer to 9x13 baking dish and roast, uncovered 40 minutes at 425 or until fork tender and starting to brown on the tops.
While squash is roasting, combine remaining oil, salt, oregano, red pepper and garlic in a small saucepan and saute on medium-high for about a minute, stirring frequently.
Stir in tomatoes with juices and bring to a boil for a minute.
Reduce heat and simmer for 15 minutes, stirring occasionally.
Add balsamic vinegar. Stir for another minute and remove from heat.
Spread pizza crusts or pitas with tomato sauce. Spread squash over tomato sauce and top with remaining sage and mozzarella.
Bake at 400 degrees until cheese is melted.
Enjoy hot.
Most Helpful
Success! I'm so glad I tried this pizza. It is delicious. The roasted butternut squash with sage is amazing. I could eat that on it's own! Tip..Trader Joe's carries butternut squash already cut up and ready. The tomato sauce is wonderful, too. I chose to use a vegan cheese this time (Daiya "mozzarella") and was really happy with the outcome. This recipe was recommended in the Best of 2010 Tag Game, by sofie-a-toast. Thank you!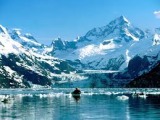 LOVED this!!! So did my hubby! I used a low fat mozzarella and added a little feta on top. I also shredded a couple handfuls of fresh spinach and put that on the pizza sauce before the rest of the toppings and what a great addition that was! I used a white acorn squash which was less sweet than a butternut or green acorn squash; I cooked it in the crockpot on low for about 3 hours. Thanks so much for posting and for pointing me in the direction of this recipe!

Wow not only did I just find my new favorite pizza but I also found a new favorite sauce. Seriously, if for some reason you decide to go for a different pizza, at least make this sauce! I made the recipe just as written except for adding some crumbled goat cheese to the top (I had some I needed to use up). Now that I've added it though I can't imagine making it without (and believe me, I will be making this again...and again). I also accidently made the full sauce recipe despite only planning on making one pizza not two. I'm glad I did though because I needed all of it. That might have been because my pizza was large and/or because I like a lot of sauce. Made for the ABC Chefs Tag.