Roasted Spring Carrots With Cumin and Lime
PaulaG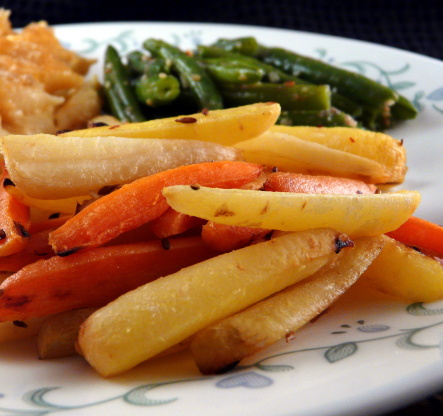 This recipe calls for "baby carrots," but not to be confused with the bagged, 2-inch variety. If true baby carrots cannot be found, peel and cut larger carrots.

These turned out great. What a nice change (normally I do butter and dill carrots). I used whole organic carrots, washed but not skinned, and sliced them about the length of a baby carrot, smaller on the thicker parts. Delicious!!!
Preheat the oven to 425 degrees.
Combine all of the ingredients in a large ovenproof skillet and add 2 tablespoons of water. Bring to a boil.
Transfer the pan to the oven and roast, tossing halfway through until the carrots are tender and glazed, about 15 minutes. Serve.