Roasted Spicy Sweet Potatoes
iris5555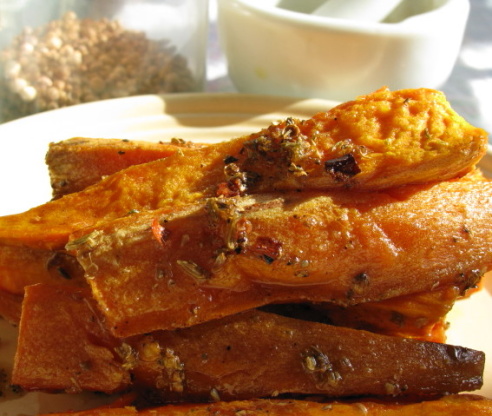 from Gourmet magazine via smittenkitchen.com. The original recipe called for 1 teaspoon of kosher salt, but I thought that was a bit too much--you may want to revert to the original amount. I roasted my potatoes at 350 degrees for an hour, turning them after one half hour.

I really loved the mix of flavors. I only used 1/2 tsp salt and added a pinch more after the potatoes cooked. (better to use less and add more as needed) I also used 1/2 tsp of cumin seeds to the spice blend and used a 1/4 tsp of ground chipotle, for a little smokey flavor. I am a huge fan of sweet potatoes that are cooked with savory seasonings.
Preheat oven to 425°F
Coarsely grind coriander, fennel, oregano, and red pepper flakes in an electric coffee/spice grinder or with a mortar and pestle.
Stir together spices and salt.
Cut potatoes lengthwise into 1-inch wedges.
Toss wedges with oil and spices in a large roasting pan and roast in middle of oven 20 minutes.
Turn wedges over with a spatula and roast until tender and slightly golden, 15 to 20 minutes more.