Roasted Spiced Sweet Potatoes
Prep 10 mins
Cook 20 mins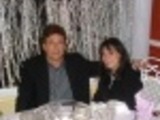 Over the years, I have really developed a taste for sweet potatoes, and am constantly looking for new ways to serve them. These are yummy even at room temperature.
Directions
Preheat oven to 400 degrees. Coat jellyroll pan with cooking spray. Add potatoes and onion; drizzle with oil and toss to mix. Sprinkle with paprika, salt and cinnamon; toss to coat vegetables.
Roast, stirring occasionally, until potatoes are tender, 20 minutes. Just before serving, sprinkle with parsley.
Most Helpful
Love this recipe. I, too, love sweet potatoes and am on a mission to uncover the best recipes. This is one of them! Thanks, JackieOhNo! Made for PAC Fall 2012.

I love sweet potatoes. This is an excellent way to season them. I loved all the flavours. I combined the oil and seasonings in a large bowl before placing on the baking tray. Thanks for sharing.

These were quite good. However, they needed to cook for about 40 min vs. the 20 posted. Also, was not really a fan of the cinnamon. However, having said this, these are good sweet potatoes. LOVED the onion with them. Will revisit this recipe omitting the cinamon.