Roasted Sliced Brussels Sprouts With Garlic
Rita1652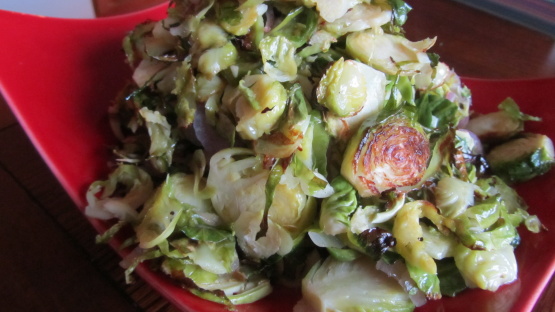 Just made a roast? This is Great to make while roasts are resting. Just have it prepped and ready to put into the hot oven. Brussels sprouts are loaded with vitamin A, folacin, potassium, calcium. Have 3-5 grams of fiber per cup, and at 25 calories per 1/2 cup cooked, they give us a reason to eat them more often. Brussels sprouts are one of those foods that will fill you up, without filling you out. For vegetarians you can make a grain along side these because they have a good amount of protein. This also works great when you stir fry them!
Preheat the oven to 450 F°.
Remove any wilted or yellowed leaves from the Brussels sprouts and trim the stem close to the heads.
Cut vertically into thin slices.
Break the onion slices apart into rings and add to the sprouts along with the garlic and a light sprinkling of salt.
Drizzle with olive oil, toss the vegetables to coat them with oil, and spread out evenly in a thick skillet or non-stick baking dish. Bake for about 20 minutes, or until the vegetables are lightly browned and tender, tossing once half way through roasting.
Serve hot as a side dish.