Roasted Sirloin Beef - Weight Watchers
diner524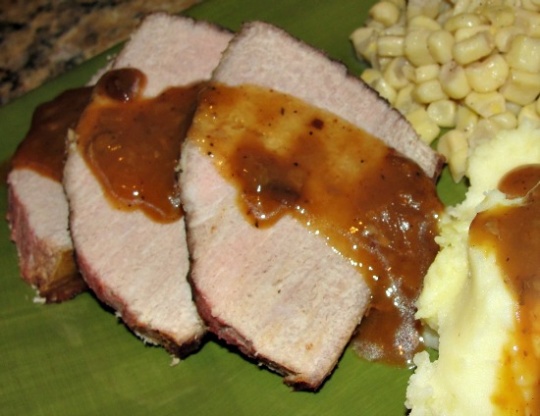 Even though I'm trying to eat healthier, I think I'd probably have a mutiny on my hands if I forced my husband and sons to stray from their usual meat-and-potatoes habits. So I thought the best solution would be to visit various websites searching for healthier meat recipes. And I found this recipe on the Weight Watchers website. I didn't see this recipe posted here yet, so I thought I'd share it so others will have the recipe, too. One serving is calculated at about 3 ounces, and is 3 Points +.
Great roast beef dinner!!! I served this with mashed potatoes and corn. My roast was in the freezer and wasn't completely thawed, so I cooked it at 400 for about 1/2 hour and then reduced the heat to 325 degrees for about another 1/2 hour, which resulted in a nicely browned outside and slightly pink interior, yum!!! Thanks for sharing the recipe. Made for ZWT8.
Preheat oven to 400°F Coat a shallow roasting pan with cooking spray.
Season beef all over with salt and pepper; transfer to prepared pan.
Combine garlic, rosemary and oregano in a small bowl. Rub the herb mixture all over the top of the beef, gently pressing herbs into the beef with your hands so it sticks.
Roast until an instant-read thermometer inserted into the center of the beef reads 145°F, about 20 minutes (for medium meat; cook longer for well-done meat).
Let beef stand 15 minutes before slicing crosswise into thin (1/4-inch thick) slices. Yields about 3 ounces per serving.