Rev.CCJ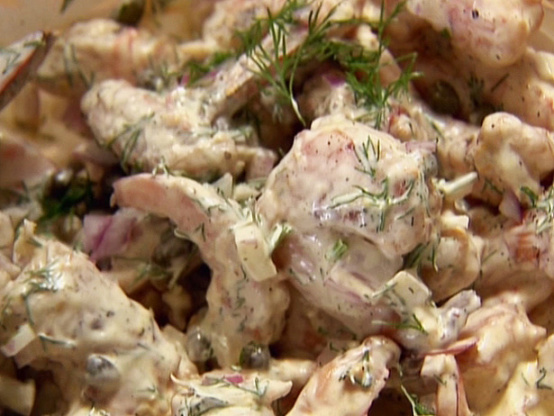 The BEST shrimp salad I have ever tasted--definitely company worthy! Quick and easy is a bonus. From The Barefoot Contessa as published in House Beautiful.

Great Salad! Everyone loved it!
Preheat oven to 400.
Peel/devein shrimp.
Place on sheet pan with olive oil, 1 t salt, 1/2 t pepper and toss together.
Spread in one layer and roast for 6 to 8 minutes just until pink and firm.
Allow to cool for 3 minutes.
Whisk together the mayonnaise, orange zest, orange juice, vinegar, 1/2 t salt, 1/2 t pepper.
When shrimp are cooled, add them to sauce and toss.
Add dill, capers and red onion and toss.
Let sit at room temperature for 30 minutes or chill and serve at room temperature.
Serve over mixed greens.