Roasted Shrimp and Broccoli
Prep 20 mins
Cook 10 mins

Modified recipe from MyRecipes.com. Original recipe by Hannah Klinger, published in Cooking Light, May 2011.
Directions
Preheat oven to 425°F.
Microwave broccoli florets for 1-2 minutes (depending on your microwave wattage). Immediately arrange broccoli florets in a single layer on a jelly-roll pan coated with cooking spray.
Combine 1 1/2 teaspoons lemon rind, juice, 1/4 teaspoon salt, 1/4 teaspoon black pepper, and minced garlic in a medium bowl. Add shrimp; toss to combine.
Arrange shrimp among the broccoli florets already in a single layer on the jelly-roll pan. Roast at 425° for 8 minutes, or until shrimp is done.
Combine oil, remaining 1 1/2 teaspoons rind, remaining 1/4 teaspoon salt, remaining 1/4 teaspoon black pepper, and crushed red pepper in a large bowl. Add roasted broccoli and shrimp; toss to combine.
Serve immediately with optional lemon wedges.
Reviews
Most Helpful
Simplicity reigns, we can't wait to have this again and again and... Just the right tang! This is great for WW diets. Scaled down to 2 servings, bought bagged broccoli florets, and prep took very little time. Bought 3/4 lb. of 26-30 count raw shrimp, so it didn't take long to peel the shrimp, either. Thank you KUW! Made for Zaar Stars Tag.

Such a simple weeknight recipe! I love that it is so healthy, too. This was really tasty. I loved the lemon flavor and the slight amount of heat from the crushed red pepper flakes. Easy and delicious! Thank you.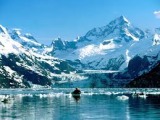 As usual, I changed things up... I used fresh broccoli and frozen pre-cooked shrimp. Tossed everything together and roasted it. By the time the shrimp was ready, the broccoli was perfectly steamed. Beautiful flavour, easy and healthy. I didn't award stars because I totally changed the recipe!