Roasted Shallot Peanut Sauce
flower7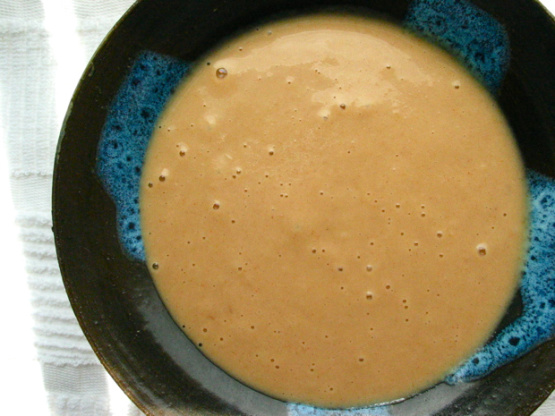 This is a great sauce for egg rolls or spring rolls or even chicken fingers. It sweet and spicey all at once. Great served warm or at room temperature.

This is definitely more of a dipping sauce in thickness. Next time I might cut back on the coconut milk a bit so it is thicker. The flavor is excellent though! I had a couple smaller shallots so used 4 total. I did cut the cayenne in half, though the full amount would probably be OK (I liked it as I made it however). Everything else was as directed. Looking forward to having over udon noodles. Thanks for sharing!
Preheat the oven to 375°F.
Place the shallots on a parchment-covered baking sheet and roast until they are very tender and the juices have started to ooze out, 30 to 35 minutes.
Let the shallots cool slightly, and then squeeze the pulp out of the skins.
Place the shallot pulp and all the remaining ingredients in a food processor or blender, and blend until smooth.
I used the mortor and pestle for this step.
The sauce will keep, covered and refrigerated for up to a week.
Warm before serving or bring to room temperature.
Works great on a buffet table.