Rita1652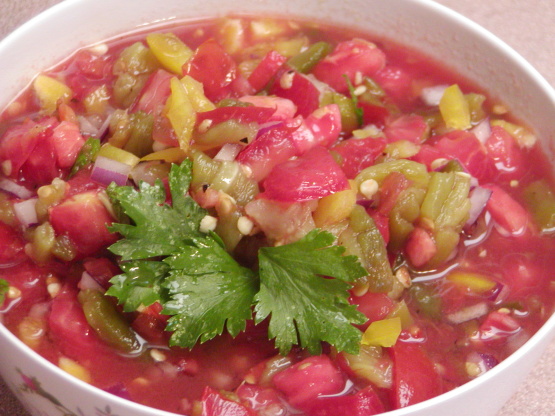 Recipe posted per request for salsa recipes. This is a very hot relish type of salsa, if you want it milder you can change the type of chilies used. Recipe source: Coyote Cafe.

I had a hard time eating this! BUT my DH had no problem. He just loved it! I boosted up the heat by adding habanaro peppers to the serranos. I roasted them in the oven let them sit and peeled all the skin off. I used 2 very large home grown tomatoes, fresh squeezed orange juice, & for him parsley to replace one of my favorite herbs cilantro (he just doesn't like cilantro. He was sweating and kept on eating. Now everyone just remember I rose the heat level. John thanks you so much! Can you tell I made this for him. Hey! And we didn't miss the garlic that I throw into everything.
In a cast iron skillet over medium high heat cook the seranos until blackened.
Remove half of the blackened skin and discard.
Chop the chilies.
Combine the chopped chilies with the remaining ingredients.
Let stand 1 hour.
Cover and refrigerate.