Roasted Salmon With Root Vegetables
Boomette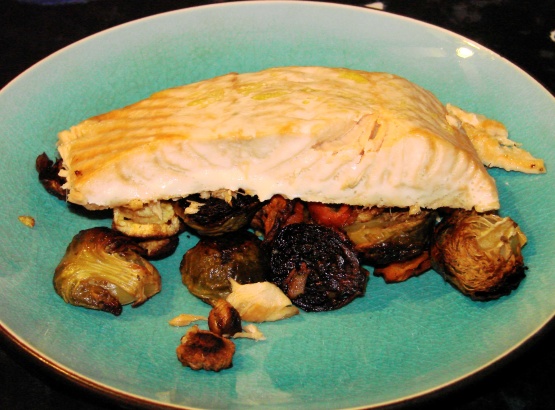 This is from a recipe card I picked up at the grocery store. A healthy one-dish meal...
The veggies are great with the salmon. It was my first time trying parsnips and it's very good. But I should have started cooking the beets way earlier than the other veggies. Because the beets were not ready when the other veggies were cooked and the salmon was cooked. It took way more time to have the beets ready. Thanks AZPARZYCH Made for ZWT8 for Diners, Winers and Chives
preheat oven to 425 degrees.
Coat 2 foil-lined baking sheets with non stick cooking spray.
Arrange carrots, parsnips, and brussel sprouts evenly on first baking sheet.
Drizzle with 2 Tbs olive oil and sprinkle with 1 Tbs of Italian seasoning and 1 tsp each of salt and pepper.
Arrange beets on half of the second baking sheet and roll up in foil making a pouch.
Place salmon filets on remaining half of sheet; lightly coated with the remaining 3Tbs olive oil.
Sprinkle with remaining salt and pepper and drizzle with lemon juice.
Bake the sheet with carrots and veggies 35-45 minutes or until tender, stirring occasionally.
Bake the salmon sheet pan for 15 minutes or until the fish flakes with a fork.
Transfer vegetables to a platter and top with the salmon.