PaulaG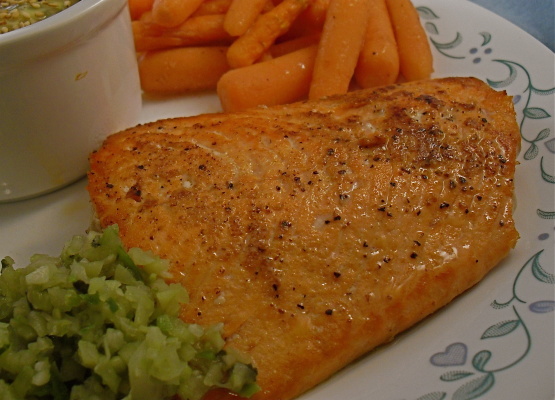 This is a recipe from '12 Best Foods Cookbook' by Dana Jacobi. I had this with Fresh Garden Salsa. Very quick and easy preparation for such a wonderfully lovely meal!
Top Review by PaulaG
Salmon is a favorite of mine and this is awesome. I warmed the oil in a cast iron skillet and seared the first side to a beautiful golden hue. The skillet was set into the oven for 8 minutes and the fish was perfectly cooked with the skin crisp and easy to pull away. This was served with Easy Korean Cucumber Salad by Mia in Germany and Spicy Nutmeg Carrots for delicious and healthy meal. Made for Tis the Season in the Diabetic Forum.
Preheat oven to 425. Season each piece of fish with a pinch of salt and black pepper.
Heat the oil in an ovenproof medium skillet. When a drop of water dances on the surface of the pan, add the pieces of fish skin side up.
Cook until they are seared and have a golden crust, 3 minutes.
Turn the fish over skin side down.
Slip the skillet into the oven and roast until the fish is pearlescent in the center, 8 minutes for a 1" thick filet.
Serve with Fresh Garden Salsa.