Roasted Rosemary Shrimp W/Arugula and White Bean Salad on Garlic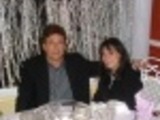 Baked shrimp, marinated in fresh rosemary, lemon juice, and garlic, top a crisp salad of arugula drizzled with a homemade lemon-and-garlic vinaigrette. Serve with garlic ciabatta.
Directions
Preheat oven to 400°.
To prepare shrimp, combine first 6 ingredients in a medium bowl; stir with a whisk. Add shrimp to bowl; toss well. Cover and refrigerate 10 minutes. Arrange shrimp on a jelly-roll pan. Bake at 400° for 10 minutes or until shrimp are done.
To prepare salad, combine 2 tablespoons juice and next 4 ingredients (through 1/8 teaspoon pepper) in a large bowl; stir with a whisk. Add arugula, onion, and beans to bowl; toss well. Divide salad and shrimp evenly among 4 plates.
To prepare garlic ciabatta: Heat olive oil in a small saucepan over medium-low heat. Add garlic clove; cook until garlic begins to turn golden, stirring frequently. Remove from heat. Discard garlic; stir in salt. Heat a grill pan over medium-high heat; coat pan with cooking spray. Add slices of ciabatta bread to pan; cook 2 minutes on each side or until lightly browned. Brush one side of each slice with garlic oil.
Reviews
Most Helpful
Very good shrimp salad - I skipped the bread and used dried rosemary -- but a good dinner salad. thanks for sharing!