ImPat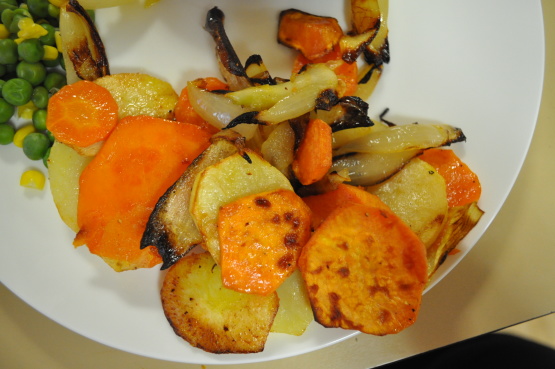 I love the name of this!! "Liberated" from the www.greenearthinstitute.org website. (RecipeZaar requires that I enter amounts...choose whatever amount and combination of vegetables you wish.)

For the root vegetables, I used 6 small beets, 4 rutabagas, and 2 potatoes. To season, I used 2T roasted garlic olive oil and 1T ranch dressing mix. I placed everything in a large bowl, put the lid on top, and shook to coat the veggies with oil and ranch. The potatoes were excellent! The beets and rutabagas were tastier than usual, too. Those two are still not my favorites, but I could easily toss all of these in a chicken noodle soup, and be glad they were there. The roasting did bring out the best of the flavor!
Slice each vegetable 1/4-inch thick. Lightly brush a cookie sheet with olive oil and butter.
Coat both sides of the vegetables with the oil from the pan. Season to taste with garlic salt and pepper.
Roast in a 500 degree F. oven for 10 minutes or until the vegetables begin to brown. Then turn the vegetables and continue to roast for 5 to 10 minutes more.