Roasted Root Vegetables With Truffle Oil & Thyme

Uh-oh, looks like no one has reviewed this recipe yet. Be the first to do it - write a review for this recipe by clicking Rate/Review by the description!
Directions
reheat oven to 425*.
Place potatoes, carrots, parsnips, onion & garlic onto a sheet pan.
Drizzle the vegetables with olive oil. Add thyme, Sprinkle with salt & Pepper. Toss together.
Place on top rack of oven and roast 20-25 min until tender. Remove sheet pan from oven, stir vegetables & drizzle with truffle oil. Place back in oven for another 5 minute Remove thyme sprigs and Garnish with Fresh Thyme if desired. Enjoy.
Most Helpful
I've been dying to try this recipe for the longest time, but had to get my hands on some truffle oil (it is not inexpensive). I had some beautiful potatoes and carrots from my farm share, which were perfect for this recipe. I used white truffle oil, which has a very pronounced flavor. The thyme was the perfect complement to this. I will definitely make this again. It would be lovely on any holiday table. Thanks for sharing!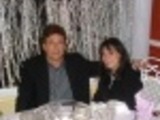 I love roasting vegetables -- it brings out their sweetness. The garlic and thyme round out the flavors nicely. I didn't have any truffle oil in the pantry, and will give that a try next time.

Much enjoyed, using white truffle oil. Made for Pick a Chef, spring 2014. Thanks!